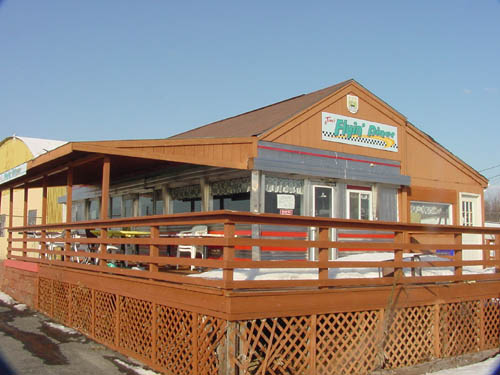 Jim's Flyin' Diner is located a penny's toss from the Southbridge Airport runway and provides an amazing view of small propeller-driven aircraft taking off and landing. Many of the regulars are airplane pilots who have come down for a bite to eat.
For lunch and evening meals, Paul Servant and his sister Louise have a special board that changes every day and includes such items as Fish & Chips, French Canadian Meat Pie, Shepherd's Pie, Lemon Chicken, Liver and Onions and many others. The French fries are homemade and as special healthy fry, they offer an option of sweet potato fries. You can dine inside or outside on the deck. Calling ahead for take-out is requested.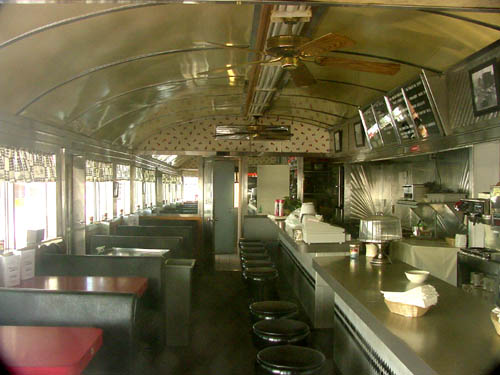 The diner car was manufactured in Pequannock, New Jersey in 1958 and is believed to be one of less than 15 that were made by Master.
It served as the Soup, Sauce and More Diner in Rhode Island during the early 1980s, and was later seen on blocks at a used car lot in Cranston. It was purchased and moved to Southbridge Airport in 1987 where Jim's Flyin' Diner has served many satisfied customers since.
Jim's Flyin' Diner
220 Airport Access Road, Southbridge, MA 01550-1275
(508) 765-7100
Open May through September
Hours:
Monday: Closed
Tue & Wed: 7:00 AM – 2:00 PM
Thurs & Fri: 7:00 AM – 8:00 PM
Sat & Sun 6 AM:00 – 2:00 PM (Serving Breakfast only on Sundays)
Flyin' Diner T-Shirts are also available.